Work has been quite rough, lately. So I haven't done much of anything geofictional.
However, isleño recently took AR120 "live" in OGF. AR120 is meant to be a kind of OGF version of the US. And I had long planned to make a state in this country. I gave up the vast majority of my territory in Mahhal (returning it to the unused country pool as AN160e) and exchanged it for a smallish "Great Lakes" state. This state will be Makaska.
Makaska is roughly modeled on Minnesota, and other upper midwest locations (Wisconsin, Michigan, Dakotas). It has a large, isthmic metropolis, called Ohunkagan – this is real-world Dakota language, which I studied once, long ago. Many of the place-names in Makaska will be from Dakota, including the actual state's name.
I have actually done a lot of work on Makaska. But its shape was vague because I wasn't sure which location I would get in OGF to implement it. So it was kind of schematic, with all these fragments of contour sections, hydrology, counties, etc.
Now I've begun the work of adapting these schemata to its actual location. I have more than 10 different JOSM layers, and I go back and forth, adjusting a river, rearranging some towns, etc. I used JOSM's opendata plugin to upload about 300 placenames directly from a spreadsheet where I'd been working on them. So that's a start.
Here's a screenshot of the work-in-progress.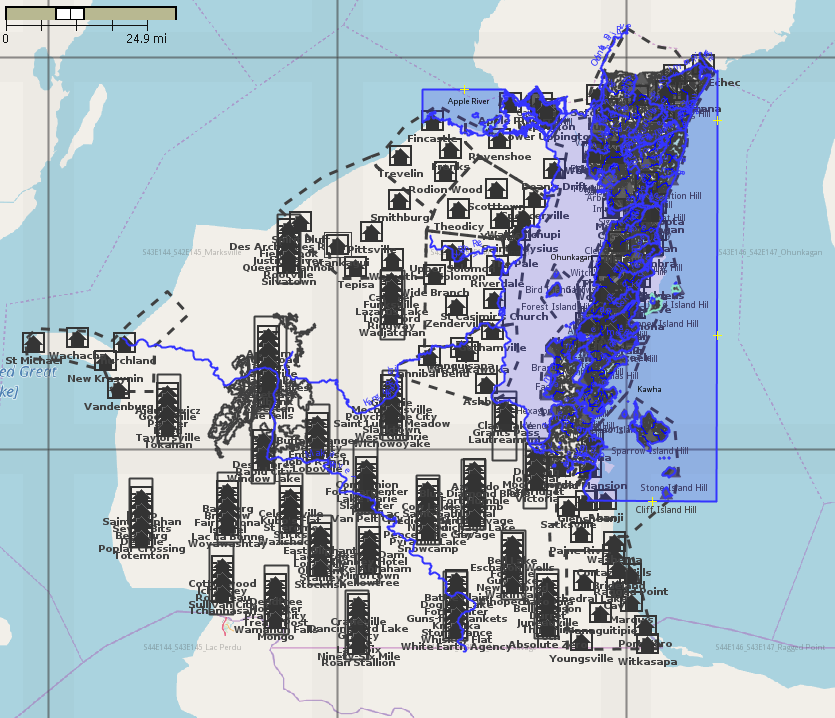 Music to map by: Niloo, "Ola Ola."