I'm going to make a rare reference to the "real world".
At the geopolitical level, I think Putin and the Russian military have miscalculated.
Despite this (or preliminary to this), I should go on record that I actually agree with their "logic" on one key point: Ukraine, historically, is a part of Russia (or, depending on the point in history and the particular patch of land, Poland). Which is to say, Russian revanchist fantasies have some foundation in historical fact. The separate Ukrainian SSR was only carved off of Russia by Lenin in the 1920's, and the Ukrainian national identity was essentially an artifice wrought by the half-hearted multiculturalist tendencies of the Soviet experiment. As Lenin said (hypocrisy alert), "The proletariat must demand the right of political secession for the colonies and for the nations that 'its own' nation oppresses. Unless it does this, proletarian internationalism will remain a meaningless phrase; mutual confidence and class solidarity between the workers of the oppressing and oppressed nations will be impossible."
This Russian mistake, however, will be their undoing. If Ukraine lacked a "founding myth" and identity before now, Russia's invasion is giving them one. From now on and far into the future, this Russian invasion of Ukraine will be the kind of foundational myth for Ukrainians that they never had before – and that will happen regardless of whether they win or lose the current war. If they win, then it will be a myth on the same level as George Washington and the American Revolution. If they lose, they become guerilla partisans like the Palestinians on the West Bank, and forge a distinct Ukrainian identity on that basis.
There is no scenario under which Ukraine fails to become a truly distinct nation in the geopolitical sense, as a direct consequence of Russia's actions. And personally, I think that's something that had been in doubt, until now. Putin's "real-world geofiction" is not going to alter the map in the way that he hopes.
Here is the Ukrainian Highway Signs Agency, contributing to the information war: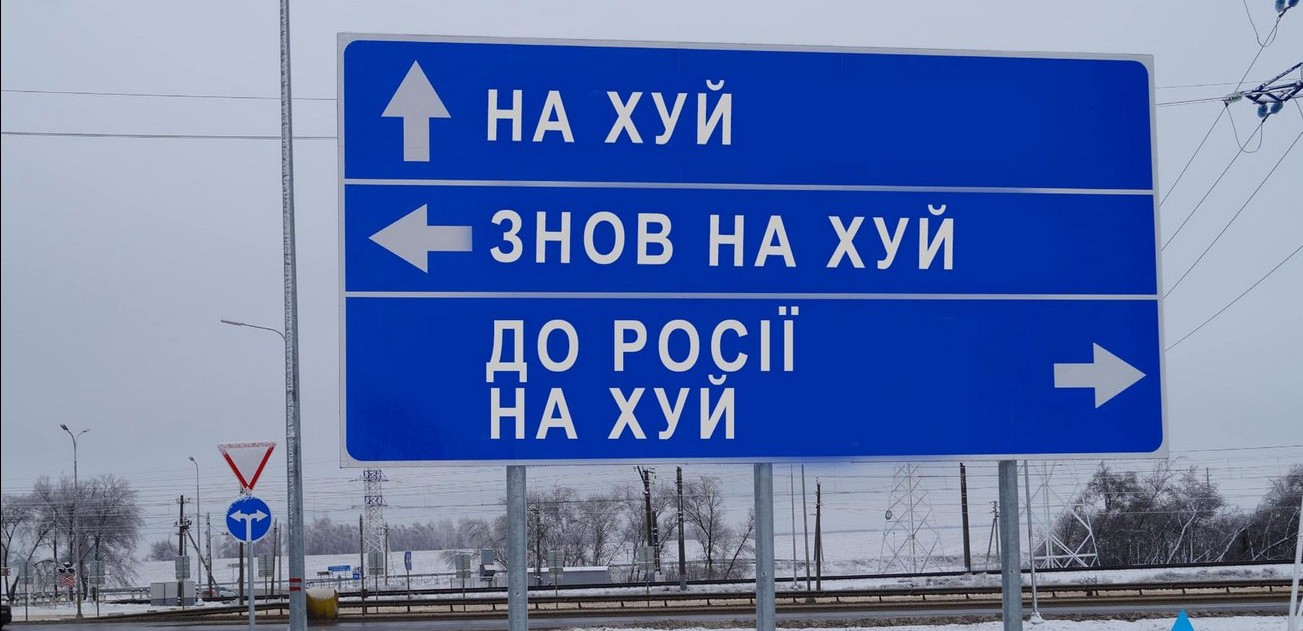 The sign has been altered to say, loosely, "Fuck Off / Fuck Off More / Fuck Off Back to Russia".
Music to forge nations by: Talking Heads, "Cities."